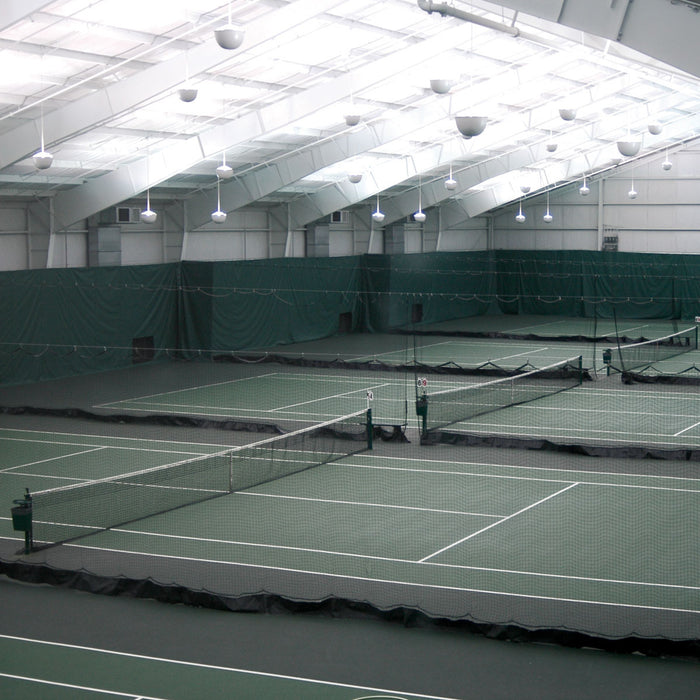 Tennis Court Divider Netting
by Active Sports
Tennis court divider netting is designed to keep tennis balls within the playing area. Facilities with multiple courts use netting to keep adjacent court interference at a minimum. This allows spirited games to proceed uninterrupted and protects players from wayward balls sailing across from other courts.
Divider netting typically hangs from the ceiling and should touch the floor to prevent tennis balls from rolling underneath. This can create a wear point where the nets drag on the floor. Our custom netting is manufactured with a permanent, or Velcro attached vinyl skirt. Removable skirts can be easily replaced giving longer lifetime to the netting system. Active Sports can help you properly furnish a new facility or update an existing one with vinyl curtain and divider netting systems. We even offer professional installation services.
Mesh Styles
Our divider netting is made from durable 1¾ inch square mesh knotted polyethylene or knot-less nylon. Standard size is 60 feet x 10 feet (two divider nets are needed per court sideline). Brass grommets are installed for attachment. Available colors include black, green and white.
Bottom Skirt Styles
The bottom of our divider netting is protected with permanent or Velcro attached vinyl or netting skirts. Optional lead rope inserts are also available. The removable skirts can be easily replaced to extend the life of your netting system.
Custom Options Summary
Custom lengths and heights

Permanent or Velcro attached vinyl and netting skirts

Lead rope bottom

Available colors are black, green and white
Additional Custom Netting Applications
Active Sports is able to make netting for a variety of applications. Our past projects cover a wide range of client needs. Below is a partial listing of systems we have produced and installed.

Private tennis courts needing an alternative to conventional fencing

Volleyball

Baseball and batting cages

Golf netting
Sports Construction and Consulting
Active Sports' team of experienced professionals specializes in the design, construction, updating and maintenance of tennis court facilities. We offer design, analysis, and installation of tennis court netting and vinyl curtain systems for all types of applications including residential, schools and universities, private clubs and public organizations.
New construction

Renovation and updating of existing facilities

Analysis and design of divider netting and vinyl curtain systems

Wide variety of netting applications

Facility analysis & maintenance
Contact us for product information and pricing. 1-800-322-2848 or construction@active-sports.com