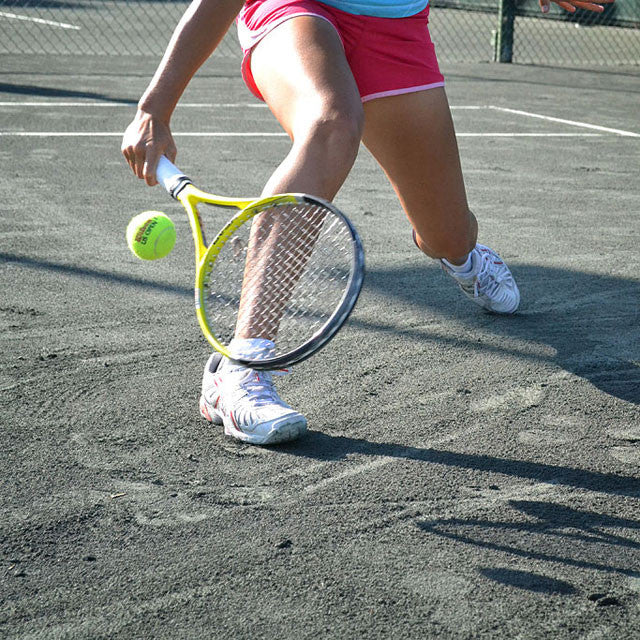 Har-Tru Clay Tennis Courts
by Har-Tru
Har-Tru Clay Courts
Har-Tru is the most popular clay tennis court surfacing material in America and is the surface used in almost every clay tennis court event in the U.S. It is made from billion year old metalbasalt green stone which is extremely hard and angular, creating a more stable tennis playing surface. Clay court tennis leaves you more physically and emotionally satisfied than other surfaces. Play long points and matches without overstressing your knees, back and lower extremities.
Top-Dressing
Har-Tru Clay Top-Dressing Har-Tru surfacing is the most widely used material for top-dressing existing clay tennis courts. It is excellent for rejuvenating courts at the start of the season. This process replaces those fine vital particles lost during the year through wind and water erosion and extends the life of your tennis court indefinitely.

Active Sports supplies clay and clay tennis court accessories to public and private tennis facilities, contractors, and private owners all over the country. Whether it is a ton of material or multiple truckloads, we guarantee the best prices. We even offer free shipping on most clay court accessories with any Har-Tru order.
Visit our "Packaging and Quantity Options" page to learn about your options for buying Har-Tru clay court products.
Benefits of Har-Tru Clay Courts
Reduced Injuries: Har-Tru responds to a player's movements, preventing the twisting and jarring that occurs on hard surfaces.
More Frequent Play: Less physical toll allows players to play longer and recover more rapidly.
Longer Rallies: On Har-Tru, players get to more shots, allowing not just longer rallies but more creative, inspiring points.
Rapid Drying Times: Har-Tru courts stay playable during light rains and dry quickly after thunderstorms.
Courts That Last: Other courts may crack or bulge but a Har-Tru court moves with the earth below and can last a lifetime.
Easy To Build: A Har-Tru court can be built almost anywhere, including on top of old, cracked, asphalt courts. Due to the surface's porous nature it solves run-off control problems and will satisfy impervious surface restrictions in most cases.
Sports Construction and Consulting
Active Sports' team of experienced professionals specializes in the construction, resurfacing, repair, and maintenance of hard and clay tennis courts. We offer construction, consulting and design services for residential, schools and universities, private clubs and public facilities.
New construction
Hard court resurfacing & repairs
Clay court top-dressing
Facility analysis & maintenance
Contact us for product information and pricing. 1-800-322-2848 or construction@active-sports.com