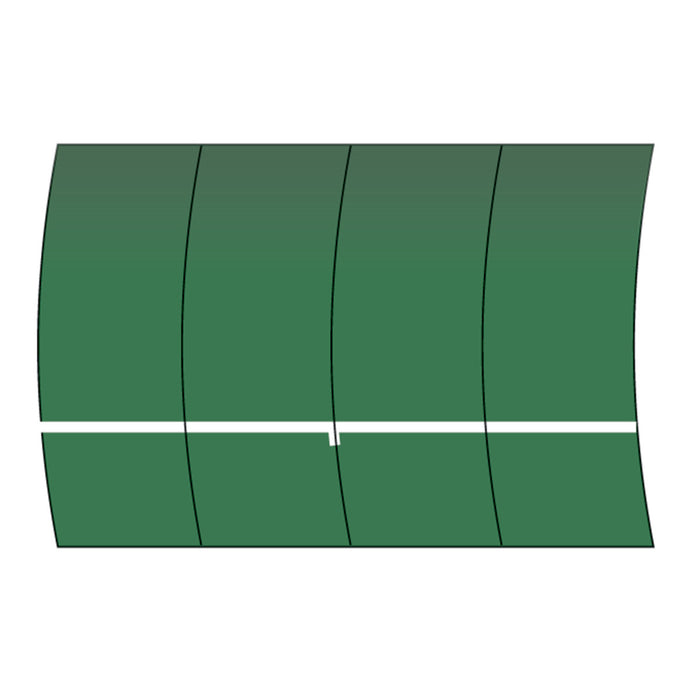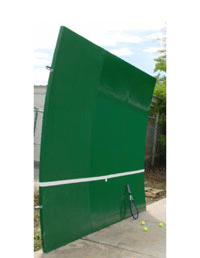 Bakko Single Curved Series Backboard
by Bakko
Bakko Single Curved Series Backboard
Made similarly to the 10' Professional Flat Series, however, curved from top to bottom. The logic of this design is to simulate a tennis match while you still achieve practice, warm-up and work out. When you hit the ball up, it tends to come back down toward your feet. If you hit the ball down, it tends to return up, as an opponent should in a match. Sideways, you still must run for the ball, just as in a match. On-going test studies reveal this backboard is the first choice by players and professionals. The bottom and top project minimally from fence 6" due to the curve (not very obtrusive). Typically purchased by tennis camps, clubs, and extreme tennis enthusiasts. The most popular size is 20' (5 panels).
Key features of the Bakko Single Curved Series Backboard
10' high panels

2½" thickness

Gentle concave curve, top to bottom

Sound-deadening matrix interior

Encased in thick fiberglass and gel coat

Coated with solar- and impact-resistant polyurethane paint

Wheel attachments to panel backs for easy installation

Steel channels for horizontal supports
Custom Sizes and Colors are Available
If your situation requires a unique size or specialized color combination, Bakko usually can customize backboards using the same Bakko quality workmanship to meet your individual needs.
Custom Sizes
Because Bakko backboards are modular by design, there are nearly unlimited options when it comes to the width of a backboard. It is common for clubs or universities to order backboards that span the entire width of a tennis court. This is easily achieved by adding an additional 4' sections.
Custom Colors and Logos
Universities and schools often order backboards to match school colors; for example, if the school colors are orange and black, they may order six 3' panel backboards, alternating colors of each panel in each backboard. Custom logos can also be incorporated into the backboard. Architects frequently order backboards to coordinate with unusual colored tennis courts or homes. Allow an additional three weeks for custom orders.

Please contact us for more information and the best shipping options. 1-800-322-2848